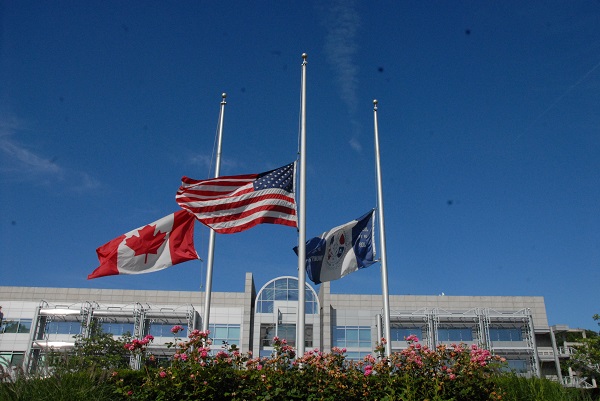 Flags fly at half-staff at IAM Headquarters in Upper Marlboro, MD to commemorate the
victims of a mass shooting at an Orlando nightclub.
Dear Sisters and Brothers,
Like you, I woke on Sunday morning to learn of the horrific violence that took the lives of 50 innocent people at a nightclub in Orlando. Like you, I learned that a single gunman triggered a bloodbath that only ended when members of the law enforcement community risked their own lives to end the carnage. It is gratitude and respect I feel for their bravery, but it is profound grief and sadness I feel for the victims, their families and friends. No words can describe the heartbreak, anger and despair they will confront in the days, weeks and months to come. I can only ask that we add our prayers, our voices and our efforts to those around the world who believe that hate must be answered not with more hate, but with compassion, tolerance and love for one another. This was an attack not just on the LGBT community, but on all of us. I would ask that we make a special effort in the days to come to ease the fears of our children, whose thoughts and dreams will no doubt be haunted by this brutal and senseless tragedy.
In solidarity,
Bob Martinez
International President
http://www.goiam.org/index.php/imail/latest/16209-orlando-statement