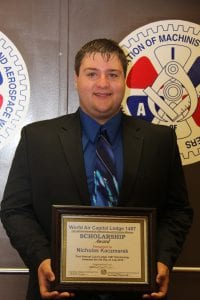 July 21, 2016
On behalf of the Executive board and the membership of Local Lodge 1487, IAMAW, would like to congratulate and present the first annual Local Lodge 1487 scholarship award to Mr. Nicholas Kaczmarek.
Nicholas is the son of Karen Perreira, Local Lodge 1487 member and 21 year Ramp Service employee of United Airlines.
Nicholas is a sophomore and currently attending Southern Illinois, in Carbondale, IL where he is pursuing a double major in Criminal Justice and Forensic Science, he will graduate in 2019.
The scholarship award program was created to be a part of this Executive Board's mission to give back to the members in Chicago. In creating this program we have the ability to help a member or someone in the member's family, pursue higher education and reach their full potential. 
In attendance for the presentation was his Mother Karen Perreira, brothers Christian Kaczmarek and Geoffrey Kaczmarek who were very proud to be a part of this historic event at Local Lodge 1487 and see Nicholas receive this great honor.
So again, congratulations to Mr. Nicholas Kaczmarek, we wish you success on achieving your goals.
Mark R. Frisch
President
IAMAW, Local 1487